With so many types and brands of refrigerators to choose from, it can be difficult to find the right appliances for your kitchen. Thankfully, Coast Appliances has an impressive selection of products from the best French door fridge brands. We'll break down what you should look for when choosing the best French door refrigerator for you in 2023.
In this article, we'll cover:



What is a French Door Refrigerator
French door refrigerators feature double doors that open up to a continuous refrigerator space on top and a freezer drawer on bottom. The design of the fridge is modeled after a pantry. This style of refrigerator made its debut in the 1990s and has gone on to become one of the most popular types of refrigerators on the market.
Pros and Cons of French Door Refrigerators
Is a French door refrigerator the right choice for your kitchen? You'll want to look closely at the advantages and disadvantages these fridges offer before deciding if this is the best type of fridge for you, your space, and your needs.
Pros:
Large Capacity: French door refrigerator models tend to have a very large refrigerator capacity.
Wide Shelves: The shelves inside the refrigerator are wide, allowing you to store many items.
Easy Organization: Many French door fridges have adjustable shelves, making it easier to keep your fridge organized.
Narrow Doors: The double doors of a French door fridge are narrower than the door on a single fridge.
Cons:
Limited Freezer Space: With these refrigerators, freezer space may be limited, and freezer compartments may be difficult to organize.
Cost: Many French door refrigerators are expensive, but we offer models at many price points.
Side by Side Vs French Door Fridge
Like French door fridges, side by side fridges have double doors. However, a side by side refrigerator has a refrigerator on one side, and a freezer on the other.
A French door refrigerator will provide you with more refrigeration space than a side by side fridge. But if freezer storage is important to you, you may find that a side by side refrigerator is a better fit for your needs.
Types and Styles of French Door Refrigerators
Because French door fridges are a popular refrigerator style, there are many variations between models. Looking at different types of fridges can help you choose a model that's right for you.
Dual Freezer Drawers: Some fridge models have two freezer doors on the bottom, providing extra freezer storage space.
Smart Refrigerators: Many newer fridge models offer Wi-Fi connectivity and smart features.
Quad Doors: These models feature four doors rather than two, with two doors on the top and two more on the bottom.
What Size of French Door Refrigerator Should You Choose?
The refrigerator you choose should fit comfortably in your kitchen and should also have ample space for the food you want to store. 4 to 13 cubic feet is sufficient for two people, but larger households will want a minimum of 19 cubic feet. It's important to properly measure your space so you can find French door models that will fit your kitchen.
How to Measure a French Door Refrigerator?
You'll need to measure the width, height, and depth of your refrigerator space. Follow these steps to get accurate measurements for your new refrigerator.
Measure the width of the space at your countertop and at the base of your cabinets. If your cabinets have crown molding, make sure you take your measurements from the areas that are most narrow.
Measure the height of the space starting at your floors and ending at the lowest point of your upper cabinets. Subtract an inch from your measurements so that your refrigerator will have room for ventilation.
Measure the depth of the space, beginning at the walls and ending at the front of your cabinets. Subtract one inch from the measurement so that the fridge will have ventilation space.
Check surrounding cabinets on either side of your space to confirm you'll have room to open the doors of your French refrigerator. If there's a kitchen island near your refrigerator space, it could keep you from fully opening your doors.
French Door Refrigerator Storage Options
Storage is a major draw for French door refrigerators.
Door Storage: You'll find deep bins in the doors of many fridges, which can be used to store larger items.
Storage Baskets: Storage baskets are a useful organization tool that allows you to separate food items. They can be found in both the refrigerator and freezer side of some French door fridges.
Flex-Temp Drawers: The temperature of these drawers can be adjusted, letting you freeze or refrigerate too.
Adjustable Shelving: The shelving in many fridges can be adjusted, which means you can create a shelving configuration that meets your needs.
Humidity Controlled Crispers: With these drawers, produce will stay fresh for longer.
French Door Refrigerator Ice and Water Filtration Options
Many refrigerators have a built-in ice maker and water filtration system. This is a convenient feature that's available in several configurations.
Internal Ice Makers: Built-in dispensers automatically produce ice so it's always available when you need it.
External Ice Makers: These ice makers are located in the fridge door and automatically distribute ice when you need it. They're usually located alongside a water dispenser.
External Water Dispensers: These water dispensers are built into the door of the refrigerator, allowing you to get filtered water without opening your fridge.
Extra-Long Water Dispensers: Some water dispensers have an extra-long design that makes it easier to fill water bottles.
French Door Refrigerator Color and Finishes
French door refrigerators are available in many colors and finishes, which means you can find options that match other appliances, countertops, and paint colors.
Panel-Ready: With a panel-ready fridge, you can install a custom panel over your refrigerator so it matches your cabinetry perfectly.
Stainless: A stainless steel French door refrigerator is sleek, modern, and resistant to smudging. We offer stainless steel and black stainless
Black: Black appliances don't show fingerprints and are easy to keep clean. Variants include matte black and black stainless refrigerators.
White: A white French door fridge has a crisp, clean look that can brighten up any kitchen.
Others: Modern fridges are available in all kinds of unusual fun colors, including platinum, slate, grey, red, and silver.
Energy Star Qualified
Fridges that are Energy Star Certified meet performance standards set by the United States Environmental Protection Agency. An Energy Star label will tell you the estimated yearly operating cost of a fridge as well as its estimated yearly electricity use. An energy-efficient refrigerator will lower your energy costs over time, saving you money on utilities.
Fruit & Vegetable Crisper
These drawers are designed to extend the freshness of produce. The humidity level of the drawers is different from the rest of the fridge, providing an ideal environment for fruits and veggies.
Adjustable Door Bins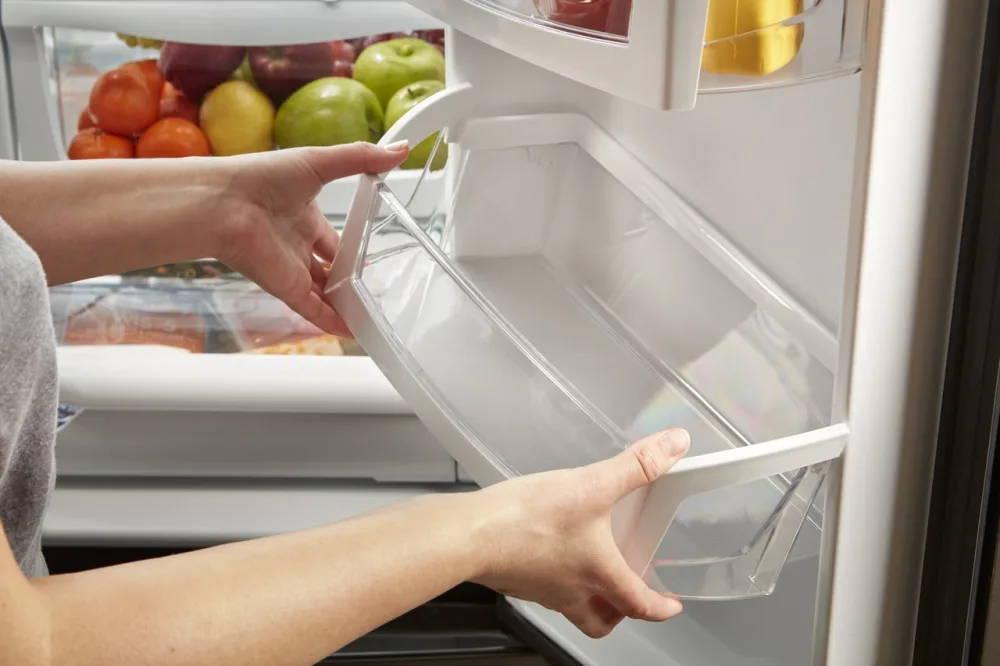 While virtually all refrigerators provide door storage, some models have adjustable bins. You can change the height of door bins, giving you space for the items you want to store.
Pantry Drawer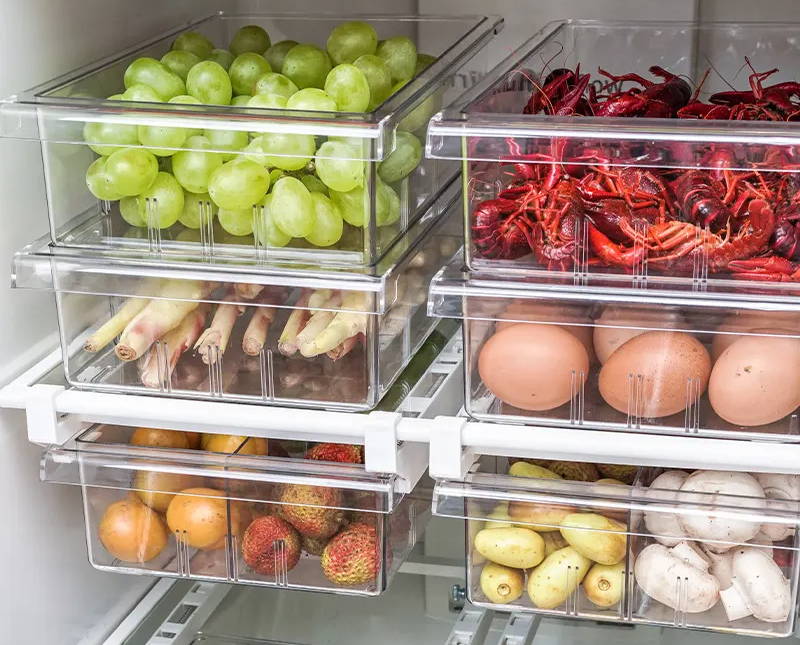 These drawers can be found in refrigerators and freezers. They're a useful organization tool that allows you to store items in a specific location.
Smudge Resistant Finish
These fridges have a finish that's designed to prevent smudging and fingerprints. With the right finish, you'll find that it's easier to keep the exterior of the fridge clean.
App-Enabled & Wi-Fi Connectivity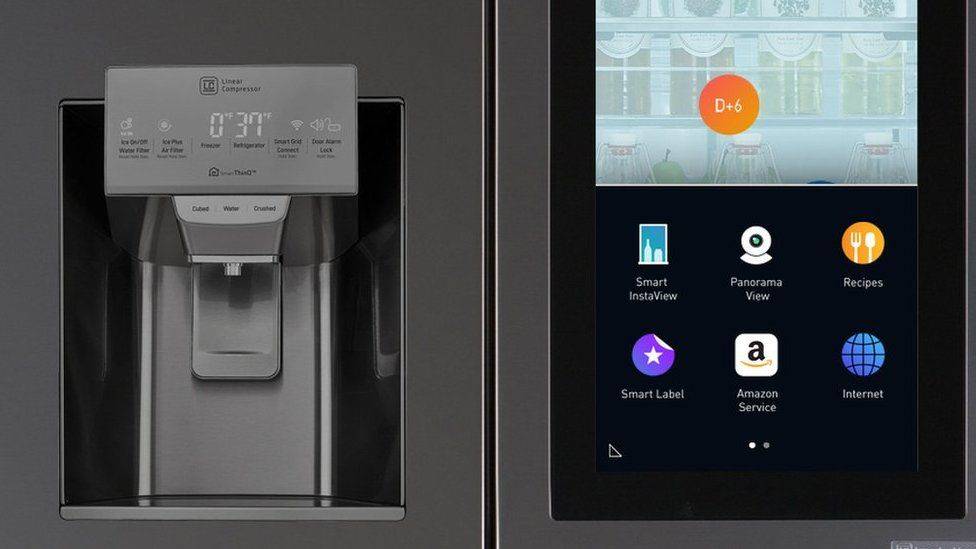 Smart features allow you to remotely monitor your fridge using a smartphone or tablet. Some apps will even send you a push notification if someone leaves a door ajar.
Counter Depth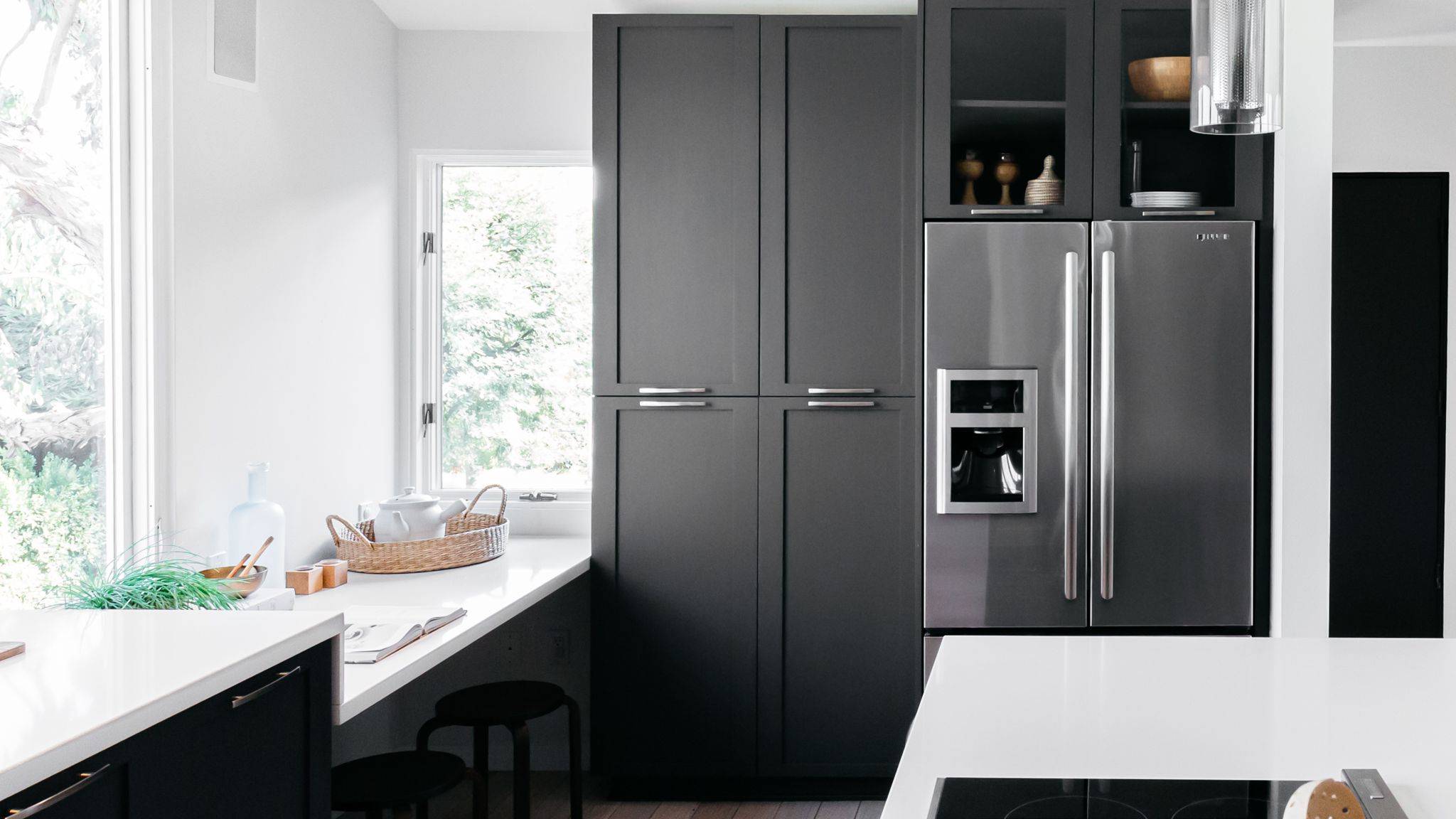 Counter depth fridges are more shallow than standard refrigerator models, allowing them to line up with your cabinets. While they typically have a lower capacity, they can improve the look and feel of your kitchen.
Reversible Doors
Some refrigerator models allow doors to be reversed so that they open in a different direction. This is a useful feature if your cabinets or kitchen island are in a location that could block your refrigerator doors. French doors don't offer this feature, for obvious reasons.
What are the Best French Door Refrigerator Brands?
Coast Appliances has an impressive selection of top rated French door refrigerators from leading brands like LG, Whirlpool, and GE. These manufacturers are known for producing high-performing, energy-efficient, and reliable French door refrigerators.
French Door Refrigerators to consider:
Whirlpool
Founded in 1911, Whirlpool is a respected brand with a long history. Whirlpool offers French door refrigerators equipped with many useful features, like side-by-side shelves and multiple water dispenser options.
GE
GE Appliances is known for its customer service and considered to be one of the most reliable French door refrigerator brands. The brand also offers a range of models, giving buyers options at many price points.
Which French Door Fridge is Best for Me?
You'll want to consider many factors when purchasing a refrigerator, including double door fridge dimensions, features, storage options, and colors and finishes. In addition to reading French door refrigerator reviews, use this guide to find suitable options in your price range.
If you're in the market for the best French door fridge Canada has to offer, Coast Appliances can help you find the right fridge for your home.
Take the time to browse our full selection French door refrigerators and search for a refrigerator that works for you.
French Door Refrigerator FAQs
How can I increase my French door refrigerator's life?
You should give your refrigerator a deep cleaning at least once per year. Set aside time to vacuum the condenser coils and keep the door gaskets clean. Make sure you don't overfill your fridge so that you don't restrict the flow of cold air.
How energy efficient are French door refrigerators?
Since you only need to open one door of the refrigerator at a time, French door refrigerators are often more energy efficient than other fridge styles. Check the Energy Star rating for a fridge so that you can find a cost-effective option.
What are tips for food storage in a French door refrigerator?
Ready-to-eat foods should be kept on the top and middle shelves in your refrigerator. Use the bottom shelf for raw meat and seafood and keep produce in drawers. Frozen items should be kept in the bottom freezer French door refrigerator.
How do you install a French door refrigerator?
Refrigerators should be unpacked outside before they're installed in your preferred location. Coast Appliances offers installation services for all our refrigerators, as well as removal services for your old appliances.