The oven is among the most frequently used kitchen appliances. While you might frequently use the sink, kettle, or toaster, it won't be for as long as an oven. 
Numerous oven cookware sets are available on the market, each with its own price tag and usability. In addition, ovens come in various shapes and sizes, as well as combinations that allow the appropriate choice to fit seamlessly into your kitchen. Therefore, you must learn about these oven distinctions to select the best model for your needs. 
What Are the Different Types of Ovens?
As described earlier, there are different types of ovens to consider. Aside from the price and model, there are many other factors to review before choosing the oven that best suits your needs. This includes available kitchen space and usability, so it is important to learn about the different types of ovens available. 
Gas Ovens
Gas ovens have been around for a long time and are a popular choice. This type of oven comes in different sizes and shapes and generates heat by burning gas, its primary power source. 
These ovens are substantially less expensive to operate than their electric counterparts since they reach desired temperatures much faster. Gas ovens cook food evenly and prevent hotspots from burning areas of your food. Also, they cool down faster after turning them off. 
However, it's important to note that gas ovens are not as efficient with gas consumption and as they produce a flame, you need to operate it safely. 
Some of the top Coast-recommended gas ovens brands include Samsung, KitchenAid, and LG, among others. 
Electric Ovens
Electric ovens are widely recognized as the best, most user-friendly, and clean appliances. The best electric ovens come with diverse options including a range of pre-set cooking programs and maintenance and safety capabilities. With a turn of the knob, your electric oven will begin heating immediately. 
Electric ovens create more even heat because there is no single heating source, making them ideal for baking. Also, because electric ovens emit dry heat, they are ideal for roasting, and if you want to add moisture, spray the dish with water or add a pan of water. 
However, using an electric oven can result in increased utility bills. 
Some of the top Coast-recommended gas oven brands include KitchenAid, LG, Bosch, Frigidaire, and Maytag, among others. 
Convection Ovens
Conventional ovens can either be gas or electric, and they also come in a variety of sizes, styles, and designs. Furthermore, these ovens can be stand-alone, built-in, or integrated into a kitchen range, providing a plethora of choices. They are heated bottom-up using a gas flame as the heat source, meaning they cook food from below. 
The best conventional ovens have a separate top chamber for broiling, though some versions let you use both capabilities simultaneously. Conventional ovens are notable for swiftly heating food and allowing easy temperature adjustment, making them a popular choice among professionals. 
Bosch, Frigidaire, Maytag, LG, and Samsung are some of the Coast Appliances recommended gas ovens brands you should check out. 
Microwave Ovens
Microwave ovens are appliances ideal if you want to defrost or heat food quickly. These ovens work on the concept of radiant energy with an estimated frequency of 2500 MHz passing through your food. 
Never put food in metal containers when using microwave ovens because these materials absorb microwaves and will damage the oven. To properly cook or defrost food, you can select settings such as the digital clock, humidity sensor, and control keypad. 
The Coast Appliances team also recommends checking out the Maytag, Samsung, or Bosch microwaves. 
Toaster Ovens
Steam ovens are frequently used in conjunction with conventional ovens. They cook food with steam instead of dry heat, which helps retain nutrients and moisture. Steam ovens are ideal for preparing cereals, vegetables, rice, shellfish, and pastries, among others. 
Hallmark's toaster ovens are also carefully designed to help you switch from steam to conventional oven, allowing you to brown or roast your favorite meat. 
You can also check out Bosch, LG, Samsung, KitchenAid, Frigidaire, or Maytag as the best models. 
Different Styles of Ovens?
Wall ovens have evolved into a standard part of today's kitchens. Aside from their sleek appearance, they also provide several essential benefits, such as preventing back strain from bending and freeing room for lower-level cabinetry. While they are not inexpensive, wall ovens provide your kitchen considerably updated design as well as some extra luxury. 
Some common styles of oven walls include: 
Single Wall Ovens

 
Double Wall Ovens

 
Combination Wall Ovens

 
It is essential to understand the differences between these types of wall ovens, from their functionality, features, installation, and usability, and how they affect your cooking.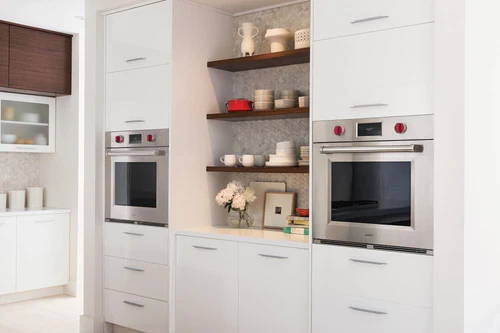 A single-wall oven is an oven with only one heating wall, unlike the dual walls in a standard oven. This increases efficiency because the heat is more contained, allowing faster cooking. 
Coast Appliances pinpoint a single wall oven as simply a small oven commonly positioned beside the counter to save space. This type of single stainless-steel wall oven can also serve as an under-counter wall oven. 
Most single-wall ovens can also be fitted as built-ins, allowing you to save more space. Single-wall ovens are frequently used in apartments or small homes with limited space. 
The biggest disadvantage of a single-wall oven is that it usually does not provide as much capacity as a regular oven. A single-wall oven may not be ideal if you're cooking for a large gathering. On the other hand, a single-wall oven can be a terrific space-saving choice for regular cooking.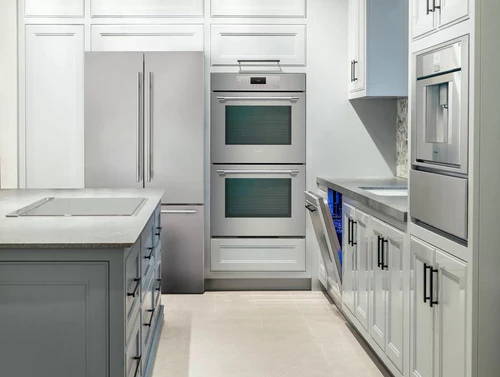 A double-wall oven has two walls instead of one, making it more effective as heat is confined between either two walls, leading to more uniformly-cooked food. The two oven sections allow you to simultaneously prepare multiple foods thanks to its double-wall oven. 
For instance, top-quality double wall ovens last longer than the other ovens as heat is dispersed more evenly. This provides peace of mind as you won't have to replace your oven as frequently, which will save you money in the long term. 
It is also important to understand that double-wall ovens are normally more expensive than regular ovens, but brands such as LG and Samsung are well worth the price if you are seeking a high-quality kitchen appliance.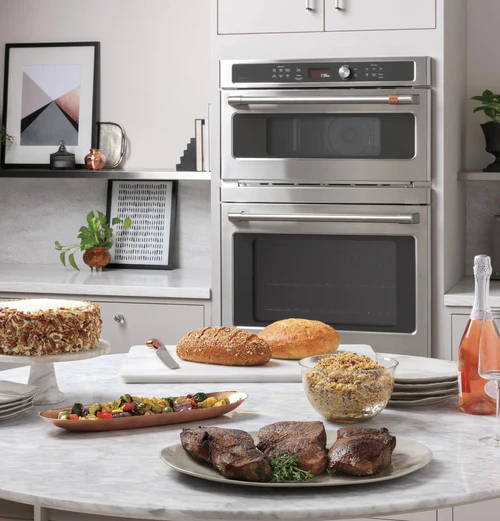 A combination wall oven combines a microwave oven and a convection oven. The microwave is on top, and a regular oven is on the bottom. 
A combination wall oven has the convenience of taking up less room than two different appliances. It also cooks food more evenly than a regular oven or microwave. 
Some models, such as the top combination wall oven, include a sensor that regulates cooking time based on the food's moisture. Other top combination wall ovens collection include Frigidaire Gallery 7 cu, KitchenAid 5.7 cu, Bosch 4.6 cu, KitchenAid 6.4, and others. 
How to Choose the Best Oven for Your Home
With so many types and brands of wall ovens available today, deciding which one is best for your needs can be challenging. There are a few things you should know before you start looking for a new wall oven. For example, do you know the distinctions between built-in wall ovens and classic kitchen ranges? Many people do not. That's why we have broken down what to look for in a new wall oven. 
Consider several factors if you want to replace an existing wall oven or upgrade from a stand-alone stove to a built-in model. Understanding the differences can save you energy, time, money, and problems. Whether you want a wall oven plus cooktop, a wall oven, or a conventional oven, knowing the difference between a conduction oven and a convection oven and how an oven in the wall is built are all critical considerations. 
Here are some factors you need to consider: 
1. Size
Understanding the size of the oven you need is essential. This will be determined by how frequently you will use it. Different types of ovens come in different sizes. A small oven is approximately 45cm in height, while a single oven is approximately 60cm tall and is excellent for cooking for one or two people. A double oven is a great choice for larger households, standing at 70-90cm tall. 
2. Price
The oven you will likely purchase will be determined by your budget. Different models are priced differently, with the cheapest retailing at $700 up to $3,500 or even higher. 
Remember to budget for installation and maintenance fees, which might range between $100 and $200 on average. Consider whether you will need a gas line installed, as well as whether you want or need to renovate your kitchen.
3. Shelves
It is useful to have a variety of shelf settings that provide oven versatility, especially if you intend to cook several foods simultaneously.
4. Freestanding or Built-In
Freestanding ovens or cookers come in various sizes and are full appliances that include a burner on top and an oven below. For smaller kitchens, a stand-alone oven is a preferred choice. Built-in ovens can be installed against a wall or beneath a kitchen counter. If you have greater flexibility when planning your kitchen, this type of oven can complement a wide range of kitchen designs and layouts. 
More importantly, the helpful team at Coast Appliances knows about all the different types of wall ovens on the market, and they offer many options with features to accommodate all your specific cooking needs. You can learn more about choosing the best oven for your home in the wall oven buying guide. 
FAQs About Different Types of Ovens
What kind of different ovens are there?
There are numerous types of ovens in the market, but the most popular are: 
Electric Ovens

 

Convection Ovens

 

Microwave Ovens

 

Toaster Ovens

 
What are the two types of ovens?
Conventional and convection are the two types of ovens. 
What kind of oven is best?
The best oven is the one that most efficiently serves your needs. There are numerous options to select from, each having its own heating techniques, capabilities, sizes, functions, and styles, among other features. 
Is a convection oven or conventional oven better?
Both convection and traditional ovens cook food by using a heat source that increases the temperature to a predetermined level. The main distinction between the two ovens is how they circulate hot air within the oven. 
The finest convection oven versus conventional oven option is the one that best meets your cooking needs. If you have a busy home and don't have time to bake, a convection oven's faster cooking times and higher efficiency may be a better option. A skilled baker with specific recipes or a household with limited time and budget may prefer a conventional oven. 
What is the difference between an electric oven and a convection oven?
Electric ovens are widely recognized as the best, most user-friendly, and clean appliances. These ovens circulate heat around the food to maintain the appropriate temperature, but they can be slow and inefficient. 
A convection oven has an internal fan that circulates heated air when the oven is turned on and a vent at the rear side fan. It appears the same from the outside and takes up no extra space when compared to a standard oven. 
Conclusion
If you are planning to purchase a new oven for your kitchen, look into some of the latest features available on these appliances. This is because things have changed since you last purchased an oven. You may want to consider the following features when buying a new oven. 
Many kitchen appliances are more energy-efficient than they were earlier, and newer versions of ovens can also be more energy-efficient.