What is the best refrigerator to buy? With so many types and brands of refrigerators on the market, it can be difficult to know what to look for. Enter our refrigerator buying guide, designed to help you choose the best side by side refrigerator in 2023.

In this article, we'll cover:

What is a Side by Side Refrigerator?
Side by side fridges have two doors that are located, as you might imagine, side by side. One door opens up to the refrigerator compartment, while the other houses the freezer. There are no drawers or doors above or below the refrigerator.
This style of fridge was first introduced by Amana back in 1949. Since then, side by side fridges have become a popular option for kitchens all over the globe, thanks to their sleek design and reasonable price point.
While a side by side fridge may seem similar to a French door refrigerator at first glance, there are distinct differences between the two types of fridges. If you look at a side by side vs French door fridge, you'll find that the doors on a side by side fridge open up to separate compartments - one freezer side and one refrigerator side - whereas French door fridges open up to one shared refrigerator compartment. Another difference is French door refrigerators have the freezer compartment on the bottom of the appliance.
Pros and Cons of Side by Side Refrigerators
A refrigerator is a significant investment, which is why you want to make sure you choose an option that's right for your household. In addition to reading side by side refrigerator reviews, it's also important to consider the advantages and disadvantages of side by side fridges in comparison to other types of refrigerators.
Pros:
Affordable options: While costs can vary based on the model you choose, there are many side by side fridges available, often at a very reasonable price.
It's easy to keep things organized: With some refrigerator models, items can get lost or buried in the freezer. With a side by side fridge, though, you can keep everything neat and organized.
Everything is accessible: You can place items at the best level for your household. Kids can access items in the freezer on their own, and adults with mobility issues can grab items without needing to bend over.
They have a clean, uncluttered appearance: Not only is it easy to keep the interior of a side by side fridge clean, but they also have stylish exteriors. They're a sleek option that's especially well-suited to modern and contemporary kitchens.
Cons:
Limited shelf width: Even though many side by side fridges offer plenty of space, shelves are narrower, which can make some items difficult to store.
Some models have less fridge space: Depending on the size fridge you choose, you may have less space than you would have with other types of refrigerators. Wider models provide more space, but they won't always work in small or narrow kitchens.
High energy usage: The design of the fridge allows a lot of cold air to escape when the freezer door is open, which could increase energy usage and negatively impact energy cost.
Types and Styles of Side by Side Refrigerators
To find the best side by side fridge for your home, you'll want to look at all the different types and styles that are currently available.
Some popular refrigerator options available today include:
Freestanding Refrigerators: When a side by side fridge is freestanding, it stands on its own and can be pushed into place. If you opt for this type of fridge, you'll be able to move your refrigerator or even take it with you to a new home.
Built-In Refrigerators: This style of side by side fridge is secured into your cabinetry, allowing it to blend in with the regular kitchen. While these fridges are less flexible, they can enhance the appearance of your kitchen.
Under-Counter Side by Side Refrigerators: The compact style of a side by side fridge can be designed to fit beneath your counters. In some cases, the doors of the fridge can even be made to match the doors on your cabinets for a built-in look.
Four-Door Refrigerators: While side by side fridges usually have two doors, there are four door models as well. Because the doors on the fridge are split, you'll let less cold air escape when you open your refrigerator or freezer compartments.
Smart Fridges: These fridges can connect to the internet or an app via Wi-Fi, giving you access to all kinds of features. A smart side by side fridge can be synced to your mobile device, allowing you to monitor and control your fridge remotely.
What Size of Side by Side Refrigerator Should You Choose?
As a good rule of thumb, you want to have between 4 and 6 cubic feet of space for each member of your household. In addition, you'll need to make sure you choose a refrigerator that fits in your existing kitchen. It's important to take several measurements before investing in a fridge, especially if you want a full size side by side fridge and freezer.
Measure the height and the width of the space where your fridge will be housed, measuring from the floor to the lowest points of your upper cabinet. Take multiple measurements to make sure they're accurate. Use the smallest measurements you have of your existing fridge when you're selecting the new one.
After that, you'll want to measure the depth of the space where your fridge will be placed. That way, you can make sure the fridge won't stick out too far.
Be sure to leave extra space around your refrigerator to promote air flow. Extra space may also be necessary to accommodate the fridge's upper hinges.
Side by Side Refrigerator Ice and Water Filtration Options
Many side by side fridge models are equipped with an ice & water filtration system, providing you with easy access to fresh ice and cold, filtered water as you need it.
Most fridges with this feature have an exterior system that's built into the door. However, if you'd prefer that the system isn't visible, you can also find refrigerators with interior ice makers and sometimes even interior water dispensers.
Side by Side Refrigerator Key Features
Focusing on features will help you find the best side by side for the money. The key features listed below offer plenty of utility and are found in many refrigerator models.
Energy Star Qualified
Energy Star is a government-backed system that measures the energy efficiency of appliances. When you look at an Energy Star label, you can see where a fridge ranks on energy usage and what your estimated operating costs will be. An Energy Star qualified refrigerator will use less power, meaning lower energy costs for you.
Fruit & Vegetable Crisper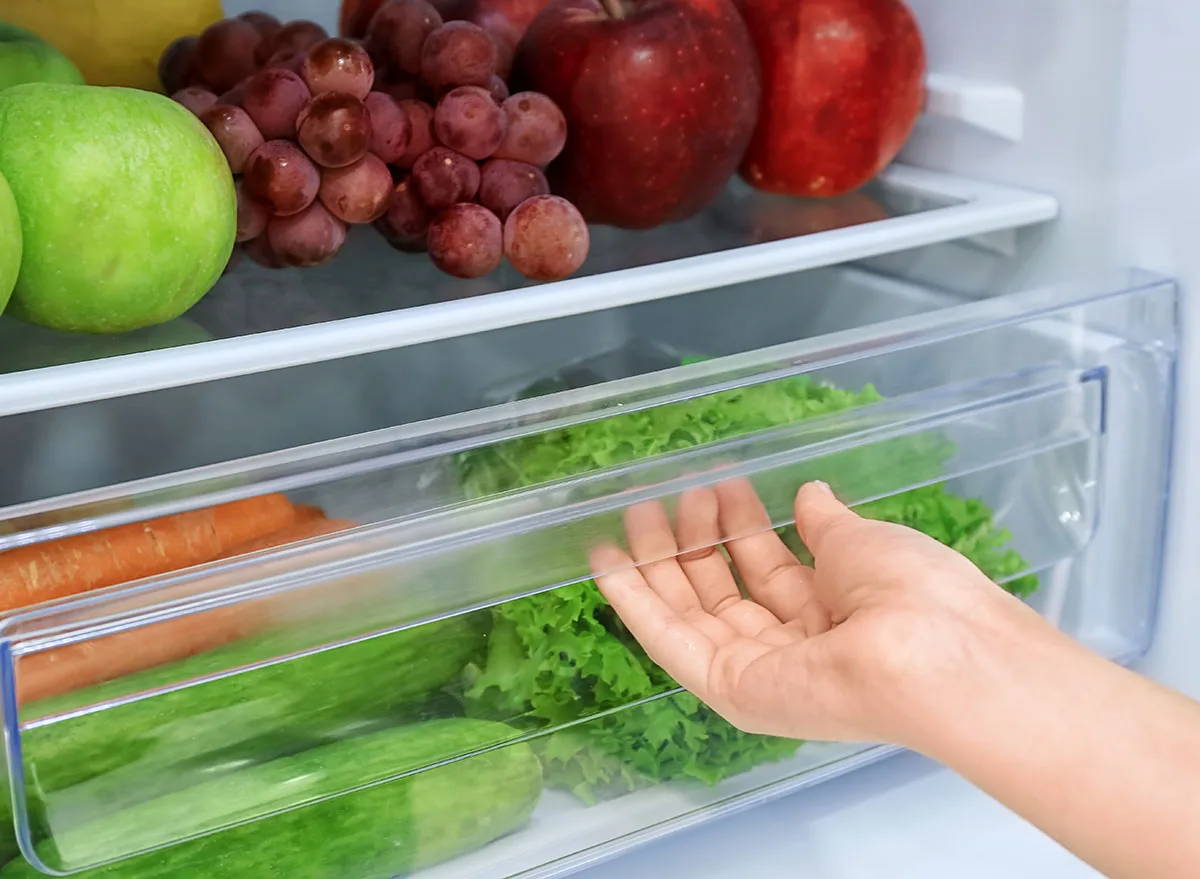 These compartments are designed to keep fruits and vegetables at a different humidity level than other items in your fridge, helping keep produce fresh for longer.
Adjustable Door Bins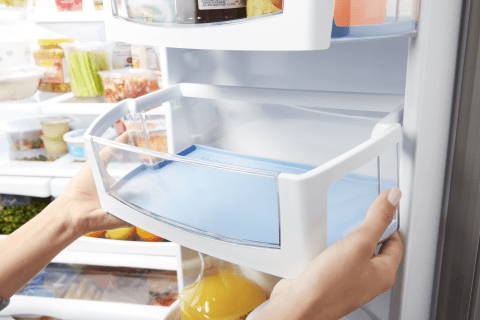 Door bins are located on the interior of your refrigerator door and can be adjusted to meet your needs. They're ideal for housing narrow items like beverages and condiments.
Pantry Drawer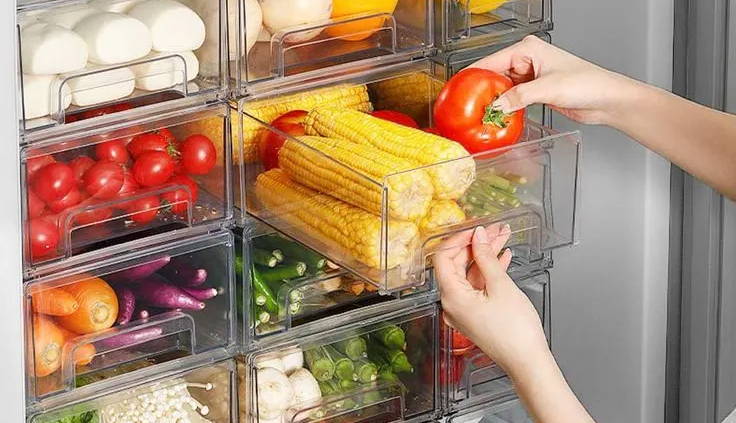 Unlike crispers, pantry storage drawers don't have a different temperature than the rest of your fridge. They are, however, an effective storage solution that helps you keep your fridge organized.
Smudge Resistant Finish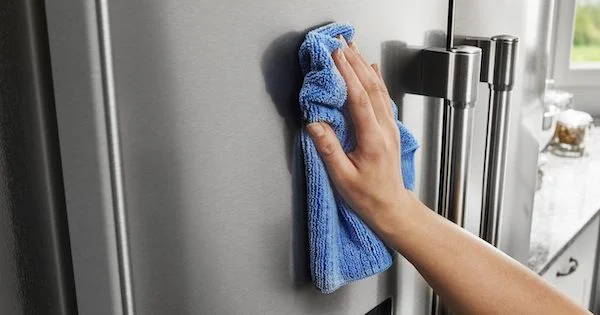 Fridges with smudge resistant finishes are less prone to leave fingerprints and smudges behind, meaning you spend less time cleaning your fridge.
App-Enabled & WiFi Connectivity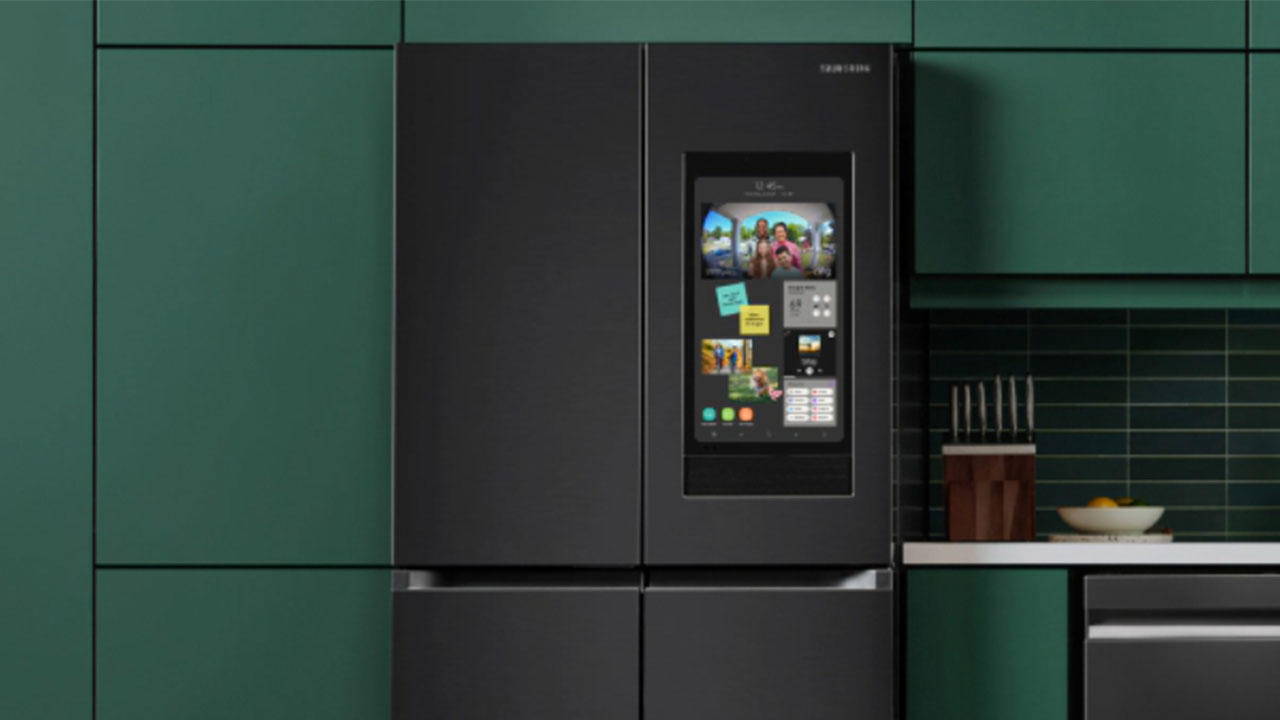 Fridges with WiFi connectivity can be connected to the internet and mobile devices. Many fridge models are app-enabled, which provides access to app-specific features like temperature control and open-door alerts.
Counter Depth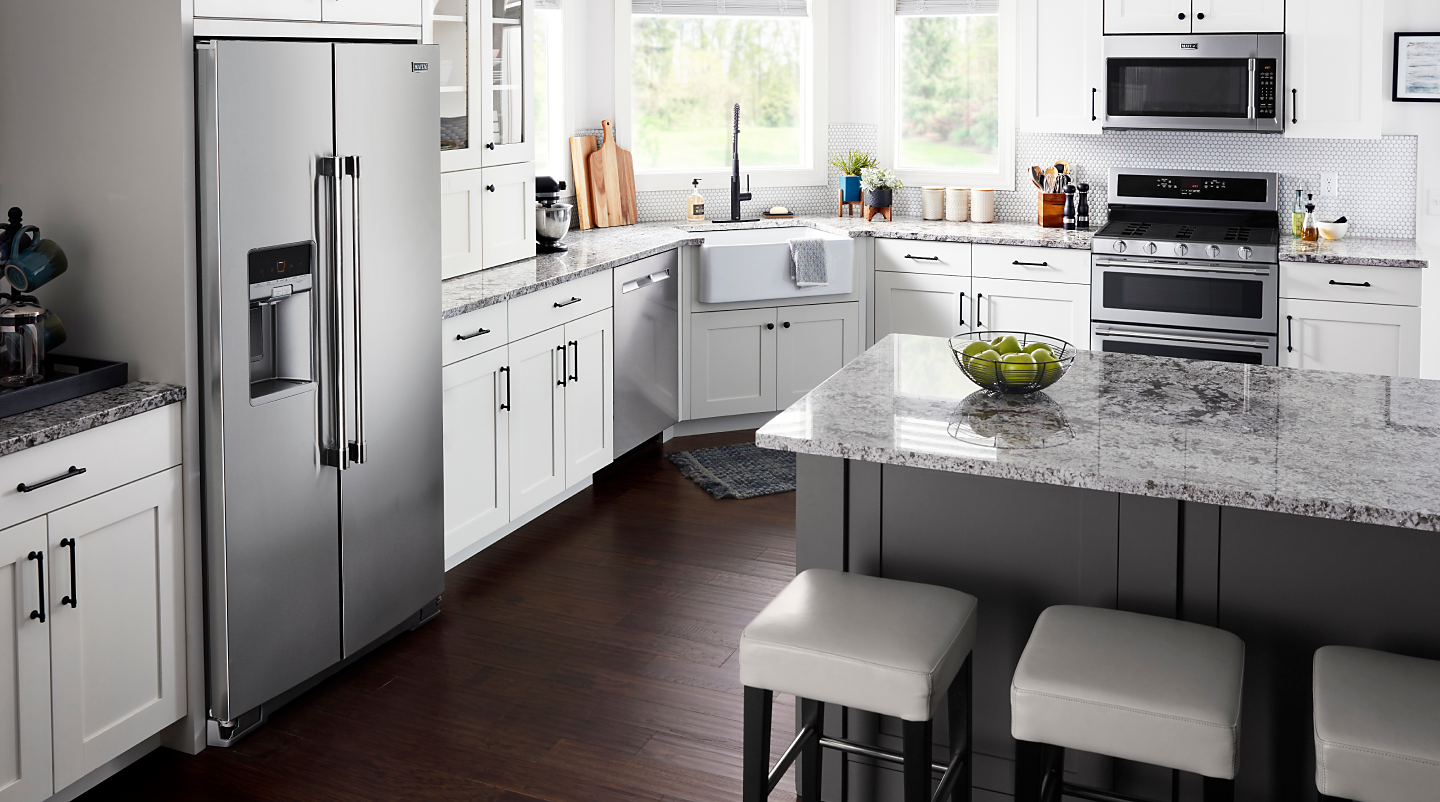 These fridges are designed to match the depth of your counters, making them shallower than traditional refrigerators.
Reversible Doors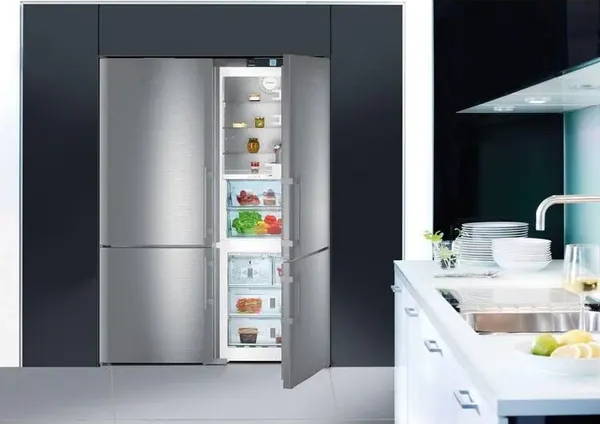 In narrow kitchens, it can sometimes be difficult to open a refrigerator door in one direction. When a fridge has a reversible door, you can adjust it so the door opens in the opposite direction. Note these aren't an option with side by side refrigerators, for obvious reasons.
What are the Best Side by Side Refrigerator Brands?
We offer top rated side by side refrigerators from all the leading manufacturers. Some of our favorite brands that offer high-performing, energy efficient side by side refrigerators with an array of premium features are:
Side by side refrigerators are a flexible solution that make it easy for every member of the family to access what they need. To find the right fridge for your home, browse our full selection of side by side refrigerators.
Side by Side Refrigerator FAQs
Why are side by side refrigerators cheaper?
While costs can vary, many side by sides can be found at very reasonable price points, and their sleek and simple design help keep their cost lower than some of the other styles of fridges on the market today.
Can you increase a side by side refrigerator's life?
Cleaning and maintaining your refrigerator are the best ways to increase its lifespan.
What is the average lifespan of a side by side refrigerator?
Side by side refrigerators have an average life of 12 years.
What brand of side by side refrigerator has the least problems?
Some of the top brands that offer side by side fridge models include LG, Whirlpool, and KitchenAid, among others.
Are side by side refrigerators more efficient?
Side by side refrigerators have a sleek design, but the freezer compartment in relation to the compressor means it takes more energy to keep the full length of the freezer cold.
Do side by side refrigerators have more space?
Sone side by side refrigerators often offer more space than other fridge models, but because the freezers also take up more space, they may actually have less refrigerator space than other models and styles.